Regular price
Kč1,500.00 CZK
Regular price
Sale price
Kč1,500.00 CZK
Unit price
per
Sale
Sold out
Ingredients: CO2 whole plant hemp extract
MADE IN EU
The hemp used in our products was grown using natural, environmentally, and ecologically friendly method without pesticides. Hemp extraction was performed exclusively by supercritical CO2 extraction without any additives.
This product contains a unique combination of hemp plants (scientific name Cannabis Sativa L.) phytocannabinoids, terpenes, flavonoids, and other valuable hemp compounds. The oil is rich in CBD and other naturally occurring phytocannabinoids, terpenes and flavonoids (including e.g. CBC – cannabichromene, CBN – Cannabinol, CBG – cannabigerol, Caryophyllene oxide).
Storage instruction: Store in a cool, dry, dark place and avoid heat, light and humidity. Keep out of reach of small children.
EAN-13 Barcode (1 ml): 8595668700932
EAN-13 Barcode (3 ml): 8595668700949
EAN-13 Barcode (5 ml): 8595668700956
Share
How to use

Start with 10 mg of phytocannabinoids twice a day and build up as required. Maximum dosage per day estimated at 1200 mg of phytocannabinoids. Do not exceed the recommended daily dose.

Consult your physician for possible interactions with other medications or supplements.
Shipping information

This product contains THC and can only be shipped to countries that allow 0.3% THC. Before placing an order, please check your local laws.
View full details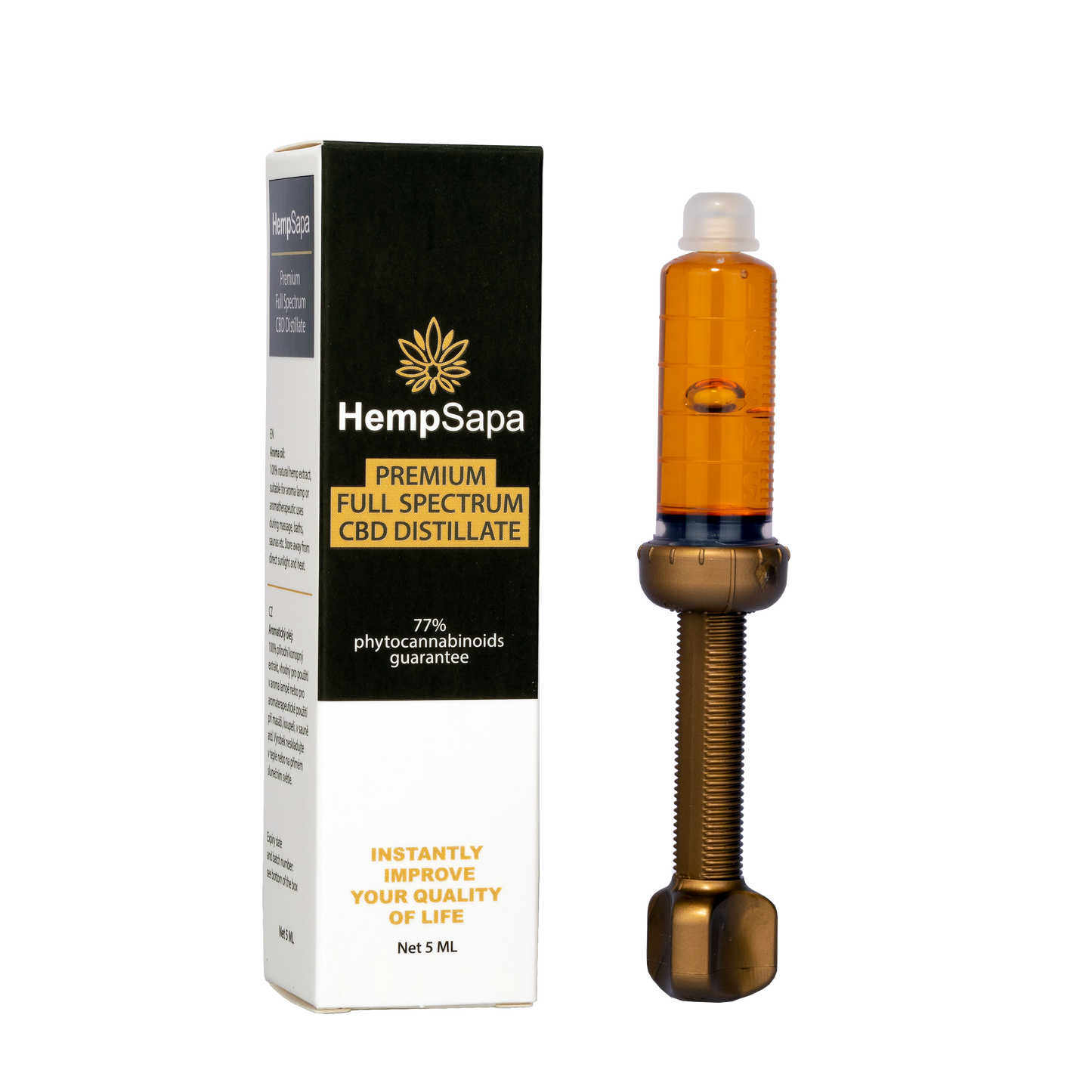 Parkinson's-like hand spasms are visibly reduced after just 2 minutes of taking CBD
CBD helps bringing high liver enzymes back to normal.
Full spectrum CBD has a beneficial effect on the liver, bringing high liver enzymes back to normal (in parallel with lowering blood pressure and stabilizing cardiovascular problems).
Original:
"On the Hospital Central of Children in Ho Chi Minh City, 9 out of 10 cases all responded that there was a decrease in liver enzymes, the medicine given by the doctor did not. And the children often put CBD rectal suppositories"
Enter CBD subscription boxes
Our subscription service is waiting for the confirmation from authorized payment gateway. Be the first to know when we launch by subscribe to our newsletter
How the Subscription Works
100% Natural

Certified hemp seeds with desirable cannabinoids profile was grown using natural, environmentally, and ecologically friendly method without pesticides.

CO2 Extraction

Supercritical fluid extraction (SFE) is the safest but also the most expensive way to extract hemp, preserving of hemp's medicinal properties.

Full Spectrum

The product contains a unique assortment of hemp's phytocannabinoids, plus terpenes, flavonoids, (e.g. CBDA, CBDA, Δ9-THC, CBC, CBG, CBDV, CBN).

Entourage effect

The interaction between all of the compounds from a cannabis plant, come together to enhance their effects and provide greater benefit than isolates.